When it comes to hardscape redesign for your patio and connected walkways, you have many choices of paving patterns from which to choose. A design is composed of many elements, so it's important to check options and surroundings before making up your mind about the look and feel you want for your urban garden.
Do you live in a designated historic district or in an association that limits your choices? Do you want to match or coordinate colors and styles with surrounding or neighboring areas? Coordinating your patio pavers to complement your home façade, style, and color, as well as the natural environment, may be an essential factor.
Paver Material Options
When we think of pavers, traditional brick styles often come to mind, but there are various shapes, colors, and materials to consider when designing your patio or walkways.
Material – The material you choose will determine the colors and shapes available to you, as well as their durability, maintenance, and often style. Popular paver material choices available are:

Brick - Mostly shaped into rectangles of various sizes. They also come in styles such as cobblestones, weathered, and antique. Differences among clay bricks include the age and source of the clay, the firing conditions, and whether they are new or vintage bricks. Paving bricks are typically denser and better able to withstand foot traffic than bricks intended for walls.
Concrete – can be a solid and budget-friendly choice with lower maintenance. Concrete can be colored to coordinate with other pavers of a varying theme. They can come in almost any shape imaginable.
Flagstone – Popular for its low-maintenance durability, flagstone is also beautiful and can provide a harmonious contrast to an all brick building facade.

Color – You have almost an unlimited palette from which to choose, so be sure your paver color sets the proper tone. Start out deciding if your pavers need to blend or contrast their environment, then select the color tone to achieve your desired effect.
Paving Patterns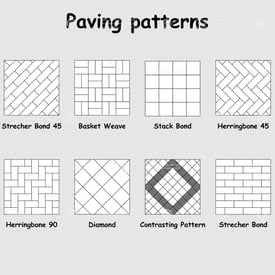 Remember, the shape and size of your pavers will also determine what types of patterns are possible to create as well. If you are sticking with more conventional designs to match existing styles or historic guidelines, chances are your pavers will be rectangular brick or colored concrete. While there are many specific classical patterns for pavers, each design may have several variations. A paving design may also be combined with or surrounded by a border. Some of the classic paving patterns include:
Basketweave
Herringbone 45
Herringbone 90
Running bond (a.k.a. Strecher Bond)
Stack bond
Linear
Random
Diamond
Contrasting pattern
When choosing paver patterns for your urban garden, you might also consider how they will coordinate with other hardscaping features on your property. Renaissance Development can help you reach your budget goals while considering how your choices fit into your neighborhood. Contact us to help you move forward on your paving projects.